KB5013943 crashes applications with 0xc0000135 and other vague error messages, breaking down Event Viewer and even causing blue screen of death on Windows 11.
If you've installed the May 2022 Cumulative Update on Windows 11, you might have noticed that many apps you use all the time don't work like they used to. KB5013943, the mandatory security update, blocks certain applications that use the .NET framework. In some cases, users receive an error code: 0xc0000135.
A similar issue was reported in the optional update, but it was not widespread. The bug seems to have slipped into the production channel with the May 2022 Update and more users are affected this time. Crashes are common among apps that use .NET Framework and apps like Discord or Microsoft Teams are also affected.
Microsoft's Feedback Hub review confirms that the app crashes started earlier today after the May 2022 updates were released. The culprit appears to be a compatibility issue between the NET framework and Windows 11. For those who don't know, the .NET framework is a software development framework for building and running applications on Windows.
According to the reports we have received, many applications seem to be affected. For example, the Corsair ICUE application does not work after installing the update, Corsair Service does not start, and users continue to receive error notifications.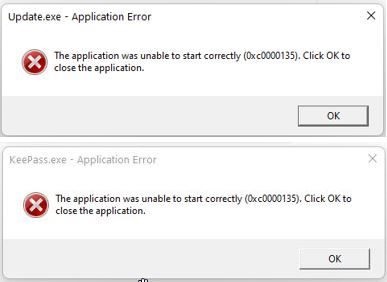 Some people have also reported issues with ShareX, KeePass, Microsoft Teams, and other apps like the Visual Studio installer. A Feedback Hub user claimed that he was unable to launch Microsoft Teams due to the error message "process terminated with code 3221225781 (0xc0000135)".
"I just installed Windows 11 update KB5013943 and it breaks the Sound Blaster Command application. The application does not start, instead I get an error saying "sound blaster command cannot start correctly 0xc0000135". Uninstalling update KB5013943 fixes the problem," another user noted.
How to Fix KB5013943 Issues on Windows 11
Since the issue appears to be related to .NET Framework, some users would get the following error after installing the May 2022 Cumulative Update:
"The application could not start correctly (0xc0000135). Click OK to close the application".
If you're concerned, there's no official fix yet, but users have told us that reinstalling the .NET Frameworks (3.5 or 4.8 depending on the install) should fix the issue.
If the .NET framework is not installed, you must activate it manually. If it is already enabled, you will need to disable and re-enable it to resolve the issue.
To fix application crashes caused by (KB5013943) Windows 11 May 2022 Update, follow these steps:
To open Windows Search.
Research "Enable or disable Windows features".
Disable and enable all .NET frameworks.

Click on OKAY.
Restart your system.
In the above steps, if you are not using .NET Framework 3.5, it is not necessary to install it, but make sure that .NET Framework 4.8 or newer is reinstalled.
We don't know what caused the problem, but simply enabling .NET Frameworks apparently fixes the problem.
If for some reason you cannot find .NET Framework in Add or remove features pop-up, you can also search for it on the Microsoft download website.
Blue Screen of Death error joins app crashes
A newly introduced bug in Windows 11 has apparently wreaked havoc by crashing some users' machines with the infamous blue screen of death. In the worst case, it triggers even the most dangerous boot loop (i.e. repeated restarts).
The issue lies with the May 2022 Update for Windows 11 and average home users who just download updates are also affected by this issue. In other words, the latest bug in Windows 11 affects both consumers and businesses.
"After installing Cumulative Update 2022-05 for Windows 11 for x64-based Systems (KB5013943) and Cumulative Update 022-05 for .NET Framework 3.5 and 4.8 for Windows 11 for x64 (KB5013628), Microsoft Studio 2 would fail to start throwing "APC_Index_Mismatch" BSOD error, The only way to start the machine was to reboot, then on the maintenance screen choose "restart".Then it would boot to OS , repeating the error on the next shutdown and reboot. The problem seems to be intermittent," noted one of the affected users.
Issues like blue screen of death and boot loop or app crashes are one of the reasons people choose to delay updates. In the event of a security update, if you don't defer or pause updates, Microsoft will automatically download and apply the patch on a Windows 11 PC, which can be a cause for frustration.
How to uninstall Windows 11 May 2022 Update
Uninstalling a Windows update is certainly helpful if your computer is acting strangely after deploying a recent patch.
It's generally a good idea to install security updates as soon as possible and we don't recommend removing security updates unless necessary. If your device isn't in a usable state, you'll want to be able to roll back security updates, so you can fix app crashes or blue screen of death errors until a new one comes out. update can be published.
Fortunately, it's always possible to uninstall a security update if you installed it today or yesterday:
To open Settings.
Click on Windows Update.
Click it Update history page.
Locate Uninstall updates the option under "Related Parameters" section.
Select the update.
Click on Uninstall.
To restart.
If you are unable to restore the patch, you may need to perform an in-place upgrade using Windows 11 ISO.
List of issues in Windows 11 update KB5013943
Here is a list of known official issues in the patch:
Recovery discs (CDs or DVDs) created using the Backup and Restore application in Control Panel may not start.
Some applications that use .NET Framework 3.5 may experience issues or crash after applying the update. Affected applications use certain optional components and not all applications are affected.
Applications that use GPUs may crash on Windows 11 after the May Update. According to Microsoft, this only affects applications that use Direct3D 9.
Update: In updated support docs, Microsoft has acknowledged two bugs causing apps to crash on Windows 11, as noted above.