The Nikon Z9 is about to get a whole lot more powerful thanks to a free firmware update that adds in-camera 12-bit RAW video up to 8K at 60fps, upsampled 4K at 60fps. second, a pre-release photo capture button, and much more.
The Z9 updates are so significant that it could easily have been a Z9 Mark II (just look at the minor differences between the Sony Alpha 9 and Alpha 9 II). Instead, Nikon is sending them free to all Z9 owners later this month.
Taking Video Capture Seriously
The Z9 updates make Nikon's flagship camera a true video powerhouse. With the new 2.0 firmware update, the camera can capture 12-bit internal RAW video in a range of frame rates and resolutions, as well as adding features and interface tweaks tailored specifically for videographers.
Footage can now be captured at up to 8.3K at 60fps in Nikon's new N-RAW format, or up to 4.1K at 60fps in ProRes RAW HQ. N-RAW footage is captured at up to 8.3K (8256×4644 pixels), allowing export in UHD or DCI 8K aspect ratios. Nikon says N-RAW (which appears as a .NEV file) contains all the depth and detail of 12-bit RAW video and crams it into a file half the size of equivalent ProRes RAW HQ files. . This capability is likely made possible by Nikon's integration of TicoRAW.
Nikon says this upgrade gives the Z9 the ability to capture the greatest possible color depth (with a gamut of over 68 billion colors) and huge dynamic range, which is extremely useful for colorists and editors. . N-RAW footage can be recorded at 8.3K 60p, 24p or 4.1K 120p, 60p, 30p, 24p in full screen/FX mode, 3.8K 120p with 2.3x crop or 5.3K 60p, 30p , 24p with a DX crop (1.5x). Anything shot in N-RAW comes with an MP4 proxy file.
4K footage is also improved, and 4K 60fps footage can now be upsampled from 8K footage. Along with these enhancements, Nikon is releasing a set of other upgrades for the flagship camera.
First, a red "REC" frame indicator on the monitor and viewfinder will be added during recording to easily identify when a video is being captured.
A waveform monitor arrives that allows shooters to confirm light levels and subject position while recording.
A new dedicated video information display gives various video recording settings at a glance, such as frame size and rate, audio settings, codec, bit depth, and HDMI output settings , all of which can be confirmed on one screen. Plus, a frame rate/size display on the top control panel helps confirm when the rear monitor is hard to see.
Four other video features are also coming to the Z9:
A "Fine ISO Control (M-Mode)" allows exposure adjustment in 1/6 EV increments for ultra-precise and smooth exposure changes.
The Fast AF-ON feature allows a user to assign different AF speeds to separate controls. From slow rack focus to fast transition, two speeds are now assignable on customizable buttons to improve video shooting efficiency.
To enable slow shutter movie recording of extremely dark scenes or intentionally introduce blur when shooting movie in M ​​mode, shutter speed can be set to slower than 1/frame rate.
With selected frame rates and resolution settings, the user now has the ability to record consecutive frames in a selected section of video footage as a series of JPEG images while playback is in progress. pause.
But it doesn't stop at software improvements. Nikon also revealed that it plans to release a new camcorder-style grip for the Z9 and a new first-party CFexpress card.
The company is developing the MC-N10 remote grip, which controls Nikon Z-mount mirrorless cameras via a wired connection. Nikon shows the grip attached to a fluid-head arm that provides many of the buttons found on the camera itself, but is positioned in a more advantageous location for use in professional video workflows. Although primarily aimed at video shooters, Nikon states that it will also work for stills shooting.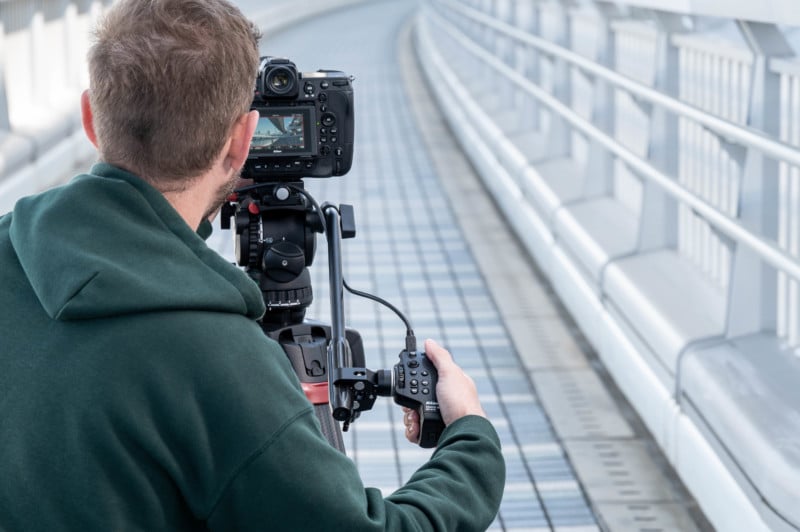 Nikon's MC-CF660G CFexpress Type B memory card will have an unconventional capacity of 660GB and promises a maximum read speed of around 1700MB/s and a maximum write speed of around 1500MB/s. is, unsurprisingly, designed to work well with the Z9 camera.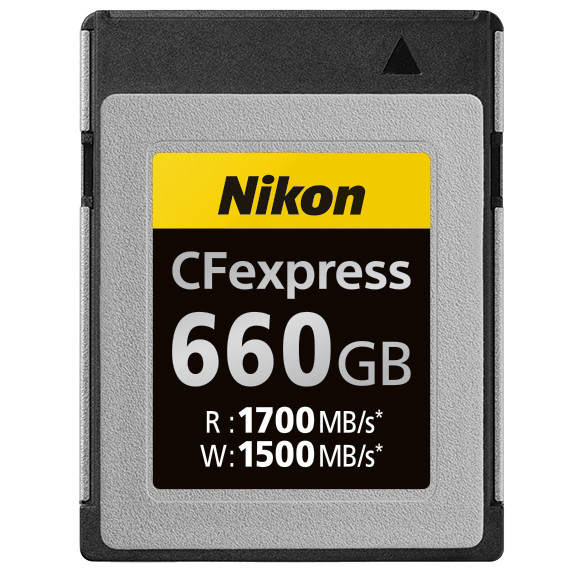 Nikon didn't provide pricing or availability for the MC-N10 remote grip as it's still under development, but the MC-CF660G CFexpress Type B memory card is slated for release in June for $730.
Updates for photographers, too
Nikon's Z9 updates deliver huge performance boosts for videographers, but photographers haven't been forgotten. For starters, Nikon is adding a pre-release capture feature that it says will make it easier for photographers to capture fast-moving subjects that are hard to predict. This feature allows the Z9 to capture a burst of images up to one second before the shutter is fully pressed.
"Imagine trying to anticipate the most decisive moment in a game or action sequence," says Nikon. "When shooting at 30 or 120 frames per second in High-Speed ​​Frame Capture+, the camera starts capturing up to a full second before the shutter is fully pressed, giving the photographer more time to trigger the camera while capturing the most impactful shot.From the moment a receiver jumps for a pass into the end zone or a bird dives into the water for a meal, the fleeting images the faster will be captured before a human can physically react.When you half-press the shutter, the camera can record footage up to a full second before and up to four seconds after the The shutter is fully depressed, all without clouding the viewfinder or distractions that would otherwise interrupt the action.
Nikon has also added a new menu option called Motion Blend. This feature, found in the retouch menu, creates an in-camera overlay from a series of continuous shooting subject movements into a single in-camera image.
Nikon is also adding 20 types of custom wide-area AF selection patterns, giving photographers more control over which part of the frame they want to focus on. As shown below, this is useful for a variety of sports and situations such as volleyball or a finish line. 12 of these models are available for video capture.
Firmware 2.0 also improves AF stability, tracking performance and subject detection in low light situations. Additionally, when reviewing images, users now have the option to jump to the first shot in a given burst. Finally, to capture star trails and long exposures, Firmware 2.0 enhances the Z9's long exposure display to include a live exposure countdown. Users can now also darken the sight further and with greater precision to preserve power and their night vision.
Nikon offers a number of other general feature updates that complement the large number of changes made to the Z9:
Optional boost to 120fps on electronic viewfinder
Auto exposure (AE) has been improved to have a more stable exposure with human faces, such as when a subject turns away from the camera and then faces it again, or when the composition changes.
Improved "Viewfinder Priority" monitor mode provides a familiar shooting and reviewing workflow.
"Prefer center of sub-selector" has been added to the custom menu, improving the operability of the sub-selector.
Improvements to AWB even when the scene changes quickly and adjustments for "Choose color temperature" and manual WB preset.
A new Custom Setting: Focus Point Selection Speed ​​allows users to adjust the speed at which focus points can be moved within the frame.
To confirm high-speed shooting, visual shutter release indicators appear clearly on the screen and live viewfinder.
Enhanced memory setting/recall function allows instant recall of multiple focus positions.
"Shooting Function Recall (Hold)" has been added to conventional "Shooting Function Recall", allowing users to hold the recalled function without continuously pressing a button.
The option to switch focus/control ring roles helps photographers who don't need manual focus to use the control ring.
Price and availability
All in all, Nikon's firmware 2.0 is a huge upgrade for photographers and filmmakers with a ton of new features and several notable improvements over the existing ones. The firmware update is free and downloadable on April 20 at Nikon website.
Nikon is also updating the Z7 II and Z6 II with better autofocus performance in firmware version 1.40, available on the same day, which improves autofocus stability and prevents the AF point from drifting. move unintentionally to the background.
---
Picture credits: All photos courtesy of Nikon.