Last month, Microsoft planned to implement a watermark on Windows 11 desktops that didn't meet minimum hardware requirements. This "feature" appeared for some insider testers, but not all. Today, Windows Latest reports that the watermark is likely heading to production devices (RTM) as it is in the latest optional update for all users in the release preview channel.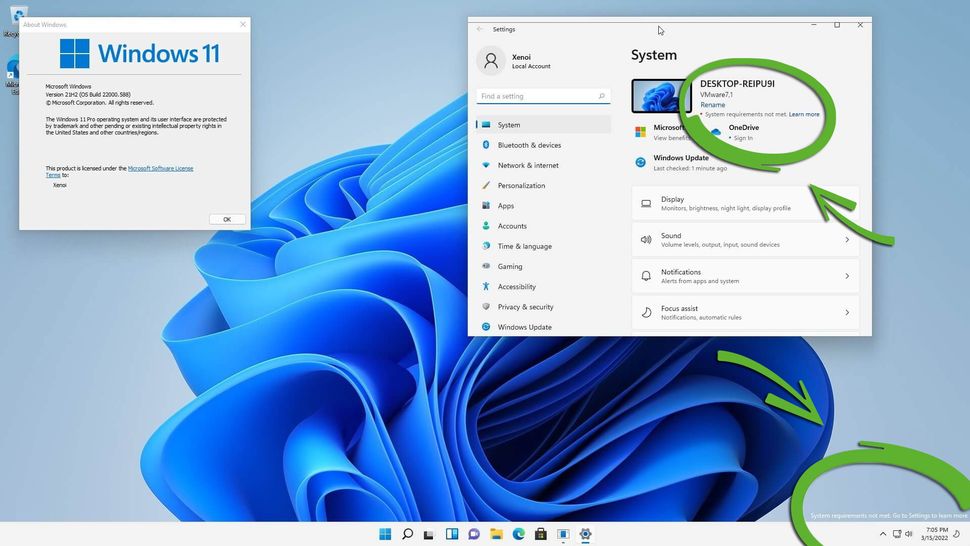 Above you can see an example of the Windows 11 "Unmet System Requirements" watermark. It is located just above the system tray area and can hold up to three lines of text. So it's hard to miss and would be more noticeable on some darker wallpapers.
We've also highlighted another small reminder hidden by Microsoft in the latest Windows 11 Insider build. Circled towards the top of the image, you can see in the System area of ​​the control panel that the message "Requirements not met" is repeated. Next to this reminder is a link you can follow to learn more.
Review hardware requirements for Windows 11
Much of a column inch has been devoted to Microsoft's decision to set aside many capable and snappy PC systems when it comes to frictionless upgrades to Windows 11. But, of course, that hasn't helped things that Microsoft announced the strict requirements and then said it would reconsider and revise it, while providing various warnings about support and updates for systems on which Windows 11 ran hooked up, but which did not quite meet the specifications.
Hide post
If the "Requirements Not Met" watermark particularly annoys you, there's a way to banish it from the desktop. All it takes is a few steps in Regedit, followed by a reboot. Please follow these steps at your own risk and be careful – make sure you have a good system backup or at least a registry backup before proceeding, for example.
To remove the desktop watermark, first launch Regedit, expand the HKEY_CURRENT_USER branch, find the UnsupportedHardwareNotificationCache entry, then right-click on that long word and change the SV2 DWORD value from 1 to 0. Then close Regedit, restart the PC, and your lovely wallpaper will come back spotless. However, it wouldn't be entirely unexpected if the watermark returned in later Windows updates.
If you're interested in Windows 11 but haven't yet taken the plunge and upgraded, it's worth checking out our setup guide. First, you might want to get a TPM 2.0 if that's the only obstacle to meeting the minimum system requirements. If more than one obstacle stands in your way, please check out this guide.
Windows 11 might be too many new things to handle all at once, and if you miss the old days, you can quite easily make Windows 11 look a lot like Windows 10. Finally, if you're suffering from the buyer's remorse, you can always go back to Windows 10, which will continue to be supported by Microsoft until October 2025.